About Isaac Casal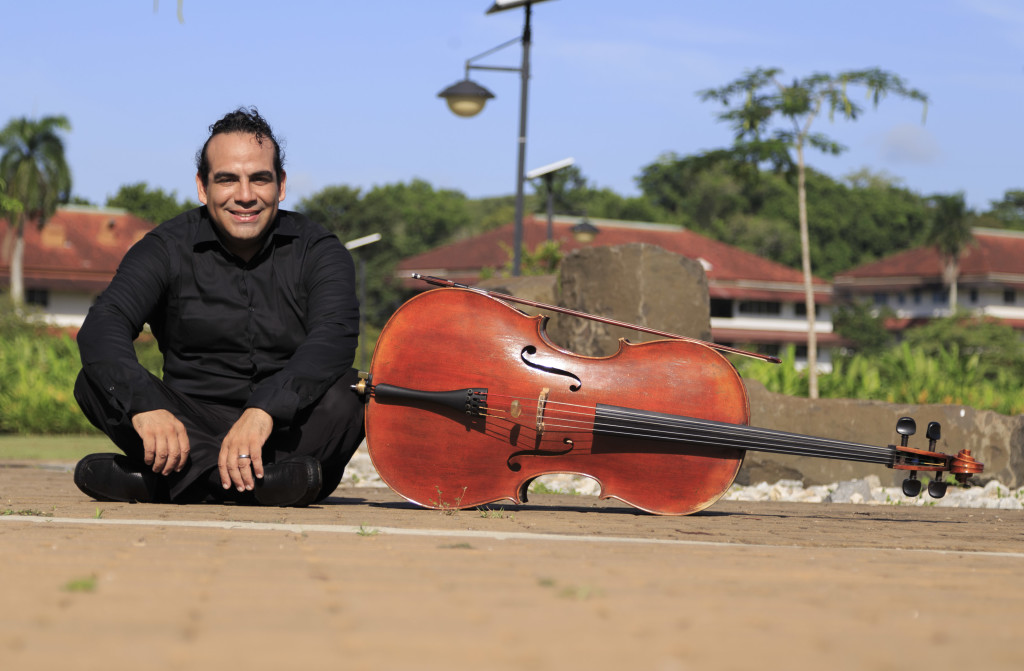 Known for his joy and positivity, Panamanian cellist Isaac Casal has brought international recognition to his country through his artistry. Isaac has appeared in numerous solo recitals, chamber music concerts, and as soloist throughout Africa, Europe, and the Americas. Furthermore, he has been recognized for his entrepreneurship and commitment to the development of young generations of musicians.
Isaac Casal is a frequent soloist of the National Symphony of Panama and the Louisiana Sinfonietta Chamber Orchestra. He is also an experienced orchestra player, since 2011- 2014 Isaac served as co-principal of the Louisiana Sinfonietta Chamber Orchestra under the renowned composer and conductor Dinos Constantinies. Isaac served as principal cellist of the Youth Symphony of Panama and was one of the youngest cellists to join the cello section of the National Symphony of Panama. As a member of this orchestra he traveled to Havana, Cuba, to participate in the Festival Mundial de la Juventud (Youth World Festival) in 1997. In 2003 he became the first Panamanian to join the Youth Orchestra of the Americas (YOA) international tours performing alongside renowned conductors such as Carlos Miguel Prieto, Isaac Karabtchvsky, Valery Gergiev, Benjamin Zander, Gustavo Dudamel, and Plácido Domingo. He was a member of the YOA from 2003 to 2008, and the highlight of his relationship with this organization included touring with Paquito D'Rivera as a member of the YOA Camerata.
A visionary of his generation, at the age of 25, Isaac founded Sinfonía Concertante Foundation of Panama (FUNSINCOPA). The foundation's mission has been to create educational music programs for low-income children and youth, including an orchestra system for high-risk children inspired by the El Sistema orchestral program of Venezuela. Recently, Isaac founded the Ensemblast Project, an ensemble that fuses the classical piano quartet aesthetic with contemporary Latin American styles, borrowing freely from an array of musical languages.
He is also the Artistic Director and founder of the Alfredo Saint-Malo Music Festival of Panama (ASMF), an annual one week festival that saw its inception on May 25, 2007, and has become one of the most important music festivals of the Central American region. In June 2015, the ASMF received the award "Anita Villalaz," granted by the Anita Villalaz Panama national cultural award commission. Highly praised by the national press, the Festival promotes music education, music appreciation, and classical music performances throughout the city of Panama and its vicinities. It also offers educational outreach programs to private and public schools, universities, and conservatories, engaging children to perform and listen to live chamber music, interacting with the festival's national and international faculty.
In May 2015, Isaac received the award "Ciudadanos Notables de Panama 2015" (Remarkable Citizens of Panama 2015), granted by the Panama's National Commission of Pro Civic Values and Morals. In 2013, he was invited to participate by the Salzburg Global Seminar to the "Salzburg Global Forum for Young Cultural Leaders II." In 2012, he received the Hildegard Behrens Foundation Young Artist Humanitarian Award. In the same year, the Junior Chamber International of Panama City awarded Isaac the Outstanding Musician in the Culture category.
Isaac began his cello studies at the Escuela Juvenil de Música de Panama at the age of 7. From the age of nine, he participated in music camps organized by the Concert Association of Panama, and in 1998 was granted a scholarship to attend the Daniel Heifetz International Institute in Annapolis, Maryland. In 2000 he moved to the United States after being awarded a scholarship to study at the Southwest Minnesota State University in Marshall, MN. Since then his major teachers have included Karen Melik-Stefanov, Keith Robinson from the Miami String Quartet, Javier Arias from the Amernet String Quartet, Gary Hardy, Andres Diaz and Denis Parker. He has degrees from Florida International University, Baylor University, and Southern Methodist University, where he earned the prestigious Artist Certificate as a student of Andres Diaz in May 2010 and in 2015 his Doctoral in Musical Arts degree from Louisiana State University under the virtuoso cellist Dennis Parker.
Additional studies include instruction by Gustav Rivinius at the Cello International Summer Academy of Bad Leonfelden in Austria, by Jesús Castro Balbi at the Texas Christian Univerversity CELLOFEST. Isaac has also performed in orchestras, master and chamber music classes for internationally known musicians such as Carlos Riazuelo, Carlos Piantini, Stewart Robertson, Leon Spierer, Joaquín Achúcarro, Christopher Adkins, Norman Fischer, Jeffrey Solow, Harvey Shapiro, Paul Katz, Antonio Meneses and Matt Homowitz.
Presently, he is  Visiting Cello Faculty at the University of Panama School of Music.
Acerca de Isaac Casal (Español)